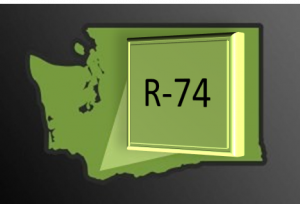 Podcast: Download (Duration: 8:08 — 3.7MB)
When the Washington State Legislature in early 2012 passed ESSB 6239 concerning
marriage for same-sex couples
modifying domestic-partnership law and religious freedom, the ball began rolling to reverse that decision before June 6, 2012 and place the issue of defining marriage before the voters at the general election in November.
Initiative 1192
(I-1192) and
Referendum 74
(R-74) were the vehicles.
Each petition required a predetermined number of valid Washington State voter signatures before it could be placed on the ballot. I-1192 failed to meet the required 241,153 signatures. On June 12, 2012, state officials announced that enough signatures, 120,557, in favor of the R-74 had been submitted and scheduled it to appear on the ballot in the November 6 general election. R-74 asks voters to either approve or reject the law passed earlier this year. If approved at the referendum, ESSB 6239 will take effect Dec 6, 2012.
In March of this year, Attorney Stephen Pidgeon, Pastor Shahram Hadian, and Pastor Ken Hutcherson, sat down with David Madore and talked about I-1192 and R-74. Everett Washington attorney and bible scholar Stephen Pidgeon was the main sponsor of the I-1192. Pidgeon, who at the time was also a GOP candidate for Washington state attorney general, says the genesis behind the I-1192 was to align the definition of marriage to the wording in the bible.
Joined by former NFL linebacker and pastor of Antioch Christian Church of Kirkland, Ken Hutcherson, and pastor Shahram Hadian, founder of the Til Project, the four also discussed the differences between an initiative and referendum and the intricate process involved in preparing a bill and getting it to the voters.
The Seattle Times reported that as of Aug 2012 the group in favor of same-sex marriage, Washington United for Marriage, had raised a total of $7.4 million for its campaign while the group opposed to the new law, Preserve Marriage Washington, reported raising more than $525,000.
The general election is only a few weeks away and now is a good time to become informed on the issues. This roundtable discussion underscores the importance of voters.  With R-74 they have an opportunity to determine Washington State's definition of marriage.
---