Jane Austen's romantic classic "Sense and Sensibility" kicks off the 10th season for Magenta Theater just in time for Valentine's Day.
"The 2010 production of 'Pride and Prejudice' clearly demonstrated the Vancouver/Portland audiences' love for all things Austen, so it was a natural move to start the very important 10th season with another of her works," according to the theater's press release.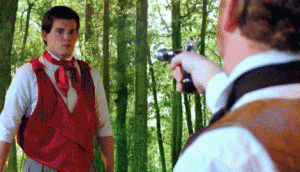 Director Melissa Barnick said she chose to use something a little different in her presentation. "Sense and Sensibility has been masterfully done by the BBC and other fine institutions, in film and television," Barnick said, "and while we do not profess to have invented a whole new way of presenting Austen, we wanted to treat our audiences to something special and quite different from what they may have anticipated."
So what should audiences expect from this production? For starters, 12 actors will be playing 21 different characters. For example, the two very different characters of John Dashwood and Colonel Brandon are played by the same actor, Paul Segren.
Magenta Theater's 2012 season
Sense and Sensibility
Feb. 10-25
An adaptation of the novel by Jane Austen
When John Dashwood and his snobbish wife, Fanny, inherit his father's estate, his stepmother and his half-sisters are forced to leave their home and live on a reduced income. Elinor bears the move with her usual stoicism, while Marianne's grief seemingly knows no bounds. Their new life, peopled by their eccentric host Sir John Middleton, the brooding Colonel Brandon, the dashing Willoughby and the simpering Lucy Steele, is set to test the bonds of sisterly love and push their sense and sensibilities to the limit.
The 39 Steps
April 13-28
Adapted by Patrick Barlow from the novel by John Buchan
From the movie of Alfred Hitchcock, licensed by ITV Global Entertainment Ltd. and an original concept by Nobby Dimon and Simon Corble
Produced by special arrangement with Samuel French Inc.
A man meets a thickly-accented woman who says she's a spy. When he takes her home, she is murdered. Soon, a mysterious organization called "The 39 Steps" is hot on the man's trail in a nationwide manhunt that climaxes in a death-defying finale. Mix a Hitchcock masterpiece with a juicy spy novel, add a dash of Monty Python and you have The 39 Steps, a fast-paced whodunit for anyone who loves the magic of theater.
Twelve Angry Women
June 15-29
By Sherman L. Segel, adapted from the television movie "Twelve Angry Men" by Reginald Rose
Produced by special arrangement with The Dramatic Publishing Company of Woodstock, Ill.
A 19-year-old man has just stood trial for the fatal stabbing of his father. It looks like an open-and-shut case until one of the jurors begins opening the others' eyes to details revealed in the courtroom. This exceptional piece of dramatic literature will be staged by an all-female ensemble consisting of Magenta Theater's finest actors. Set, costumes and props will all be black, white and gray to reflect the black and white television era.
Something to Hide
Oct. 12-27
By Leslie Sands
Produced by special arrangement with Dramatists Play Service
Set in an English village and weekend home of novelist Howard Holt and his well-to-do publisher wife, Karen, this disarming mystery will keep audiences guessing at each turn. After Karen arrives at the house unexpectedly and inadvertently runs over Howard's young mistress with her car, the couple agrees to dispose of the body. The situation becomes more complicated with the arrival of an unconventional detective and the interference of village residents.
Every Christmas Story Ever Told (and then some)
Nov. 30-Dec. 15
By Michael Carleton, James Fitzgerald and John K. Alvaraz
Produced by special arrangement with Playscripts Inc.
The theater's Christmas 2009 production is back by popular demand. Three actors present a mix of Christmas stories, Christmas traditions from around the world, seasonal icons from ancient times to topical pop culture, and a wide variety of carols.