Lew Waters, whose blog "Clark County Conservative" tackles local political issues in the county and beyond, has been honored by Stateside Associates.
Waters was named one of the three best local political bloggers in Washington, along with Politics Northwest in Seattle and Political Buzz in Tacoma.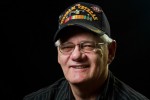 Waters began blogging shortly after the 2004 presidential election, focusing on national issues. Eventually, though, he began focusing on local politics from a Republican perspective.
Stateside Associates is a state and local government relations firm that was founded in 1988 and is based in Arlington, Va.
"I am thankful to Stateside Associates for this honor and will continue to strive for accuracy and honesty in promoting the conservative view of politics in Southwest Washington and national subjects I cover," Waters said in a blog post. "I thank all of the readers of Clark County Conservative for comments, suggestions, support and especially Professor Robert Dean, Rees Lloyd and others for their many contributions that helped achieve this honor."
Click here to see a COUV.COM feature on Waters.
Click here to read the full list of winning blogs named by Statewide Associates, or click here to read the press release.