Podcast: Download (Duration: 37:10 — 17.0MB)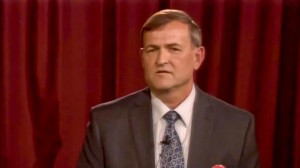 Jon Haugen provided the following text for his interview:
Jon T. Haugen, age 52, retired Military Veteran, former Navy pilot, Democrat, has announced his candidacy for election to Washington's Third Congressional House Seat currently held by Rep. Jaime Herrera Beutler.
"We need more good paying jobs in the Third District" Haugen said "I will protect and strengthen Medicare and Social Security while reducing the Debt and Deficit."
"The Third District is a gem, from Goldendale in the east to Long Beach in the west, from Vancouver in the south and Centralia in the north.  After my military career I could have moved anywhere and chose to live here."  Haugen said.  He went on to say:  "We need to bring more visitors to this wonderful region, with incredible wineries, Mt. St. Helens, the magnificent Columbia and the unparalleled Pacific.  Tourist dollars can help bring more jobs."
Haugen has visited Suzlon Turbine in Pipestone, Minnesota and REC Silicon in Moses Lake, Washington to investigate whether Wind Turbines and Solar Panels can be built in the Third District.
"I am in this race to provide a new voice and vision for Washington's Third House District," Haugen said and reaffirms at his web site www.HaugenVet.com.
Haugen has been married to his bride, a Registered Nurse at Legacy Salmon Creek, for 26 years.  They have three children, who all attended Clark College and graduated from Washington State Universities.
Haugen is well versed in foreign policy and the military; he would protect and strengthen Medicare and Social Security; Haugen's idea for a new bridge at I-5 would save $3 billion, with neither tolls nor Light Rail.
Haugen has, through the military, many years of foreign policy experience.  He served with NATO and in Japan.
Haugen became interested in politics because of his unapologetic support of Public Schools.  When Jon Haugen moved back to Washington State he was surprised to find School Levies still required a Super Majority, 60% in favor, to pass.  Super Majority had been in the Washington State Constitution since 1932.  He was told to "forget about it" and "this will never change".  Haugen fought for Public Schools.  Jon Haugen was the only private citizen to testify at both the Washington State House and Senate hearings in favor of the public education initiative "Simple Majority".  The measure passed in the Senate by one vote, his testimony had an impact.  Haugen then traveled around the state in support of "Simple Majority".  This would change the Washington State Constitution whereby Local School Levies could be passed by a simple-majority of 50%, rather that 60%.  The State-wide referendum changing the State Constitution to Simple Majority for  School Levies passed in 2007.
Haugen is running to protect and strengthen Medicare and Social Security.  He does not support ending the current Medicare guarantee with a voucher program.  Nor does he support privatizing Social Security to the whims of Wall Street.
Haugen has testified against tolling and Light Rail.  Haugen has advocated leaving the current safe and well-maintained bridges in place and building a new, six-lane no-lift structure with no tolls and no Light Rail.  Jon Haugen has a new bridge plan that saves $3 billion dollars.
Haugen said "If elected I would not allow a new bridge to be built on the backs of Washington State residents through tolling."
Haugen would reduce the Debt and Deficit.  The only pledge Jon Haugen will make is to the United States of America.
Haugen said he is "part of another 1%, those that have raised their hand to volunteer to serve in this nation's military."
Volunteering to serve our country Haugen committed to defense of our country, at age 18, raising his right hand while repeating the oath of office.   Haugen graduated from the United States Naval Academy in 1981.  An excellent student, Haugen was in the top third of his class.
HaugenVet.com, 360-907-8340, info@HaugenVet.com, Twitter: @HaugenVet   www.HaugenVet.com
---
COUV.COM has invited every candidate on Clark County ballots to share their views with voters in a free-flowing interview where candidates are free to talk about whatever they like.  In addition to that conversation, each candidate will wrap up each interview by speaking directly to voters as they see fit.
COUV.COM streams each interview live, including live audio before and after each interview so listeners can hear our pre-interview and post-interview conversations. It's our way of being transparent and welcoming open unfiltered access behind the scenes.
Although our invitation was extended to all candidates, some accepted and some declined.  If they do not appear on COUV.COM by October 15, it is because they declined to participate.
COUV.COM can publish submitted text from each candidate that participates.  However, we will not include text that talks negatively about another candidate.  We encourage positive issues-oriented messages.