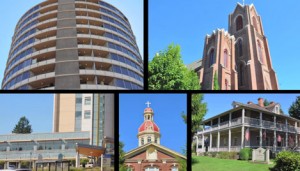 For the full story, view the video above.
They say going back in time is impossible. Yet, when you walk through historic downtown Vancouver, you will find yourself immersed in the city's illustrious past. Incorporated in 1857, Vancouver is one of the oldest settlements in the Northwest.
You could spend an afternoon traveling through Vancouver to trace architectural changes from the bucolic log cabin to the hi-tech and green designs of today.
In episode two of Uniquely Clark County, Couv.com explores the beauty and eccentricity of ten of the city's notable structures.
Fun facts left on the cutting room floor:
The Hidden Brick Company supplied the brick for both the Academy and St. James Catholic Church and later relatives of the Hidden family purchased the Academy.
Kiggins Theater has the original neon sign dating from the 1930's.
The Telephone Exchange building is "U" shaped.
The Covington House was originally located off of Fourth Plain Blvd.
Did you miss the first episode of Uniquely Clark County – Public art? Click here.