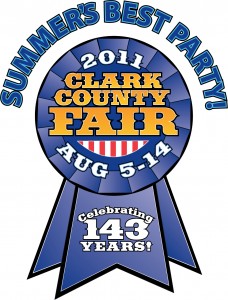 Generations of Clark County families have savored the experience of one of the highest rated fairs in Washington State.
More than a quarter million people spend a day or two under the August sun to munch on burgers, curly fries, pizza, seafood, pie, ice cream, cotton candy, popcorn and, as of late, fruit kabobs and Asian cuisine.
Commercial and itinerant vendors fill all available spaces. Clark County photographers, quilters, gardeners, beekeepers, bakers, artists and seamstresses compete for ribbons and fair premiums. Food preservation and canning continues to have a featured spot at the fair, as well as the grange and agricultural booths.
In recent years, an emphasis on recycling and clean hands has added a modern day feel to this deeply ingrained summer tradition. Online purchasing of entrance and ride tickets offer relief to standing in line, and in the case of carnival rides, online commerce also offers discounts.
If the temperature rises sharply, relief from the heat is available inside the air-conditioned commercial exhibit building.
Top-end entertainment at the amphitheater has added to the 10-day festivities. DockDogs® has flung itself into the fray as one of the best watched features. Strolling performers and community acts give fairgoers an opportunity to stop and enjoy the ambience. And if all that makes you feel tired, wander through the animal barns and moo with the cows or bleat with the goats.
The high caliber of the displays at the Clark County Fair and the abundance of children's activities continue to make this a family favorite venue.
What's your favorite fair memory?
Livestock has a rotating schedule. Visit the fair's website for more information.