Podcast: Download (Duration: 16:37 — 9.5MB)
Unite 4 Life's executive director, Aaron Chidester, talks about how Unite for Life started from Chidester's own response to suicides of those close to him. Unite 4 Life is a suicide prevention program, providing public education about suicide prevention and working one on one with families that are at risk.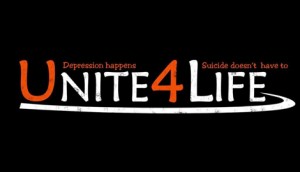 01:35 Chidester says working with young people is rewarding but difficult because he hears about so much pain. He tells about one high school girl that has faced the death of seven people in her life, three to suicide.
03:24 Chidester reveals how accessible and immediate information is on the Internet and social media and says research shows that exposure to specific details creates a "contagion." The two worst responses to a suicide are to ignore it or glorify it.
07:41 Chidester encourages people to love and help people that are alive in memory of the deceased. He says a suicide should motivate people to make a difference in others' lives.
09:47 Chidester says getting involved in the generation of teenagers will help counteract this suicide "fad." Kids are hurting for companionship and direction. They need help understanding depression and he encourages everyone, not just parents, to take the time to get to know the teens around them.
12:12 Chidester talks about cutting, drug addiction, poor grades, bullying, rebelliousness, high-risk sexual behavior and more.
13:12 Chidester further explains reasons for drug abuse and cutting and how parents and adults should address the behavior.
15:27 Chidester wraps the conversation up with what his organization, Unite 4 Life, does for young people to help them get through the circumstances that have caused the depression. He works with them to develop coping skills, establish an identity and creating a sense of future and self-worth.
Read Aaron's success story and others' at Unite 4 Life's website.
If you need immediate help call: 1-800-273-TALK (8255).