Listen to an audio podcast of the video here:
Podcast: Download (Duration: 5:08 — 2.9MB)
Last week Naylene Frunk of COUV.COM caught up with the Christian Youth Theater Vancouver for "The Secret Garden." This week, she visited the East County group at Washougal High School to watch a dress rehersal of its upcoming play "Robin Hood."
CYT Vancouver East will be performing "Robin Hood" at Washburn Performing Arts Center, which is located at 1201 39th St. in Washougal. The performance runs two hours for public performances.
The group will have 7 p.m. performances on May 27 and 28, and on June 3 and 4. Afternoon performances will be June 4 at 3 p.m. and on June 5 at 2 p.m. For more information or to purchase tickets, visit CYT's website.
---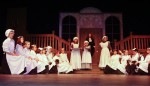 See photos from "The Secret Garden" dress rehersal here: Christian Youth Theater presents 'The Secret Garden'
UPDATE: Tickets for next show https://www.cytvanport.org/getTickets.aspx
---