Podcast: Download (Duration: 6:42 — 2.8MB)
If you're going for a drive with your family on Saturday consider a route that goes by the Firstenburg Community Center on 136th Avenue. Not only is it a beautiful tree-lined street, but if you drive towards Cascade Middle School you will see an unassuming driveway on your left for two businesses.
Turn down the driveway a little farther and you will find a 110,000 square-foot building just beyond the gate. It is full of three businesses and more than 30 different nonprofit organizations that are hosted by US Digital.
On this particular Saturday the parking lot will be full of information booths, cooking demonstrations, music and kids activities. Why so much excitement? The Outreach Center is holding a "Community Helps Expo." It will start at 10 a.m. and continue until 2 p.m. The nonprofits organizations that share the Outreach Center space will be showcasing their businesses and how they can help the Vancouver community.
The Outreach Center began in 2007 when US Digital's CEO David Madore was inspired by a simple quote from the Bible, "What is that in your hand?" Exodus 4:2. At the time he had 17,000 square-feet of unused space in his new building. This question instigated turning this area into a functional office space for local faith-based nonprofits.
"The offices offer more than a workplace, they offer a space where people can connect with other organizations and network," says Madore.
Nonprofits from the Outreach Center want to share their passion with Vancouver. Many of these organizations have a focus both locally and nationally. Their unique abilities can benefit those located in the Vancouver area.
Organizations such as All God's Children helps couples adopt "the world's forgotten children" and LINKS that works with community organization to provide emergency food to families across Clark County.
The groups housed here don't just help people in extreme situations, but also help children build character through theatrical productions like Christian Youth Theatre or help boys learn integrity and responsibility through the wrestling club and mentoring program Man Up.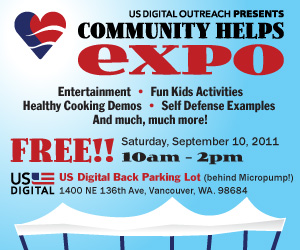 Here is a list of the vendors that will be at the Community Helps Expo:
All God's Children
An orphan ministry and adoption agency dedicated to rescuing and caring for children around the world.
Options 360 Pregnancy Clinic
Provides caring, nonjudgmental information to women and teens faced with unplanned pregnancy. Educating for all options.
AWARE
A youth education whose purpose is for youth to build stronger relationships through programs to embrace character, respect and responsibilities.
Christian Youth Center (CYT)
An after-school theater education program for youth 4-18 years old, devoted to developing character through dedication to produce family entertainment.
B-Fit
A workout facility that provides classes, individual-specific workouts, podcast, nutrition tips and more to balance your physical and spiritual development.
First Class Homeschool Ministries
Assistance, support and help connecting homes-schooling families across Clark County along with resources.
S.H.A.P.E. NW
The Source for Health And Physical Education helps charter schools deliver a complete health education for students.
Called To Rescue
Rescuing minor children from sex trafficking, violence and abuse as well as providing prevention education for youth of all ages.
Child Evangelism Fellowship (CEF)
A Bible-center organization reaching out to kids through after school clubs, camps and fairs.
China Outreach Ministries
Teach Chinese scholars at universities about Christ to create disciples when they return to China.
Common Ground / Dare to Live
Taking the gospel through evangelism to every junior high and high school in the area.
Celebrate Nutrition
A certified holistic health coach that helps people transition from the Standard American Diet to eating "real and nutrient rich whole foods."
MarriageTeam
Marriage coaching and seminars to improve marriages through education.
Man Up
Mentoring program and wrestling club for boys focused on accepting responsibility and leading courageously.
Shared Blessings
Shares the love of Jesus to the Muslim people in Gambia through education, food, medicine and compassion.
LINKS
Provides emergency food for needy families in Clark Country through community service groups.
Unite 4 Life
A school based suicide prevention program offering education and awareness of hurting students and their needs.
For a full list of the organization in the Outreach Center please visit: http://www.usdigital.com/outreach